Zero Zone praxis for Performing Arts
Zero Zone praxis training is on how to enhance the performing flow and avoid stage fright
Zero Zone praxis is a self-cultivation praxis that helps tackle ego-based conflicts during the rehearsal period in Performing Arts and avoid stage fright manifestations in the actor-director dyad. ZZ can also be practised individually as a performer training technique. By practising ZZ praxis, a performer achieves a profound uninterrupted performing flow and moves to a higher level of consciousness in his performance. This creates a powerful contact with the spectator, and both receive an unforgettable experience from the show. Alongside the training, in the case of the production, an actor-director dyad employs here cultivating directing mode. In repeating rehearsal cycles, the director supports the actor to achieve extra strong concentration and helps them to create personal conviction of artistic truth. This makes their performance effectively intimate, talkative, robust and profound.
Zero Zone praxis is an idiosyncratic practice which fuses Stanislavskian actor training and directing craft with the perceptual exercises from Yogic techniques and philosophical principles (Abhyasa and Vairagya, Yamas and Niyamas). Zero Zone Praxis training for Performing Arts encourages the perceptual entering to the character, creating awareness about time and focusing and introducing different levels of consciousness to use them for more profound creation in Performing Arts. It is about creating a robust performing flow, which carries the performer and provides real enjoyment from performing. The Zero Zone Praxis training has three stages for exercises and techniques and the lecture format to create an intellectual understanding of the essence of the praxis. The best result will be achieved with repetitive training and use in practice. 
The First Stage: The Stairs
External, psychophysical
This preparation level can be used as a warm-up for rehearsal, in which a shared space will be created. The exercises provide an embodied understanding of psychophysical insight: what are the tools for improving self-confidence and connection with a partner, and how it works? How to create a performing flow.
The Second Stage: The Entrance 
I have introverted Kinaesthetic awareness in use.
The techniques at this level are turning external focus (from physical doing) inward, tuning one to be more intimate, peaceful and thereby more precise, present and aware of the inner processes for differentiation and sharpening perception. 
The Third Stage: Zero Zone Dynamics
This intellectual knowledge is given in lecture-discussion mode.
While the first two levels are carried by curiosity and gradually progressing awareness, supported by personal insights private to every participant, the third level frames everything together: the reasons, the destination, the path and the result.
Zero Zone praxis training aims to contribute to the performer's training and performing quality in terms of a better understanding of using the bodymind. Furthermore, the results can be applied to performers and directors in training as a preventive tool for alleviating fear in rehearsing and producing in the performing arts.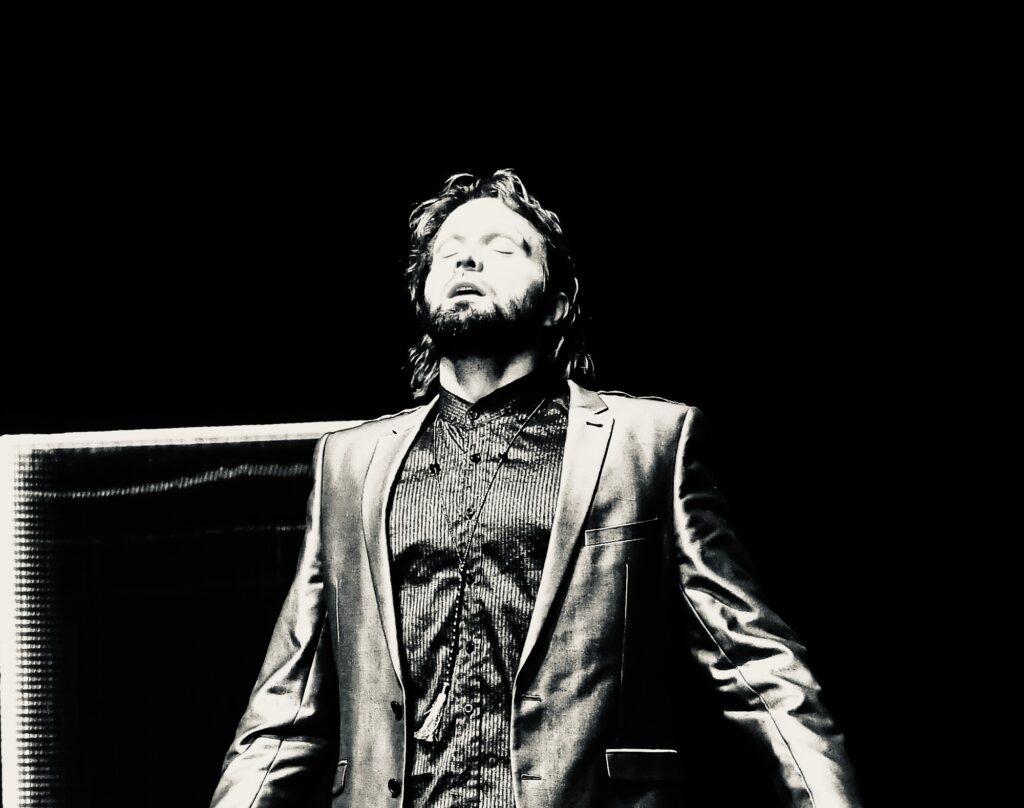 Flow is a state of concentration so focused that it amounts to absolute absorption in an activity.
It is easy to reach one, an achievement is to stay in one.
Read more about performing at higher state of consciousness
Read more about Zero Zone Praxis
Tamur's Flow
Inquiry for Signature Training
ZZ praxis workshop can be held online or on-site in individual or group mode. Kindly let us know about your or your ensemble needs by sending us a message. After mapping your needs, we can agree on the training scope and timeline.
Sincerely yours, Tamur Tohver
I realize sometimes that I am too oriented toward results. I like to achieve, being in the centre of attention. However, it is stressful and I also realize how selfish this attitude could be. It also takes a lot of energy. Zero Zone praxis helps to stay focused on doing and the shift is remarkable!
The Jump is really effective […] … even with a partner with whom you have been a colleague for a long time. You will discover the eyes and go in a somewhere intense connection.
This was challenging for me for first – how will the ensemble follow the idea of additional training. Fortunately, they took the extra training as something refreshing, with joy!
I immediately felt a decisive confrontation as the director started from the wrong end. I used the Shift instead of starting to argue with her to defend my reaction. This saved the situation and brought personal relief!
When I feel I will force the solution, I step back now. This provides more space for the ideas coming from the team and encourages us to contribute equally, preventing mistakes. Zero Zone praxis actually decreases my responsibility and increases the department's commitment.
Actors usually love games. This made it easy to start with the process, I actually found myself supported by them and this, in turn, reignited myself.
The absorption is so strong. I practice it every evening, from the need
… this helps to get familiar and already into more dedicated connection with new further partners and avoid also stage fright!